Cigar Shop in St. Petersburg, Bill's La Habana is the Acclaimed Club to Buy and Smoke Cigars
(NO MEMBERSHIP REQUIRED)
Step into the realm of world-class cigars at Bill's La Habana Cigar Club. Located in the scenic heart of South Pasadena, we're more than just a local cigar shop in St. Pete—we're a sanctuary for aficionados and newcomers alike. Our selection boasts a range of hand-rolled, premium, and boutique cigars, ensuring that your perfect match awaits whether you're seeking a robust Maduro or a mellow Connecticut Shade.
At Bill's La Habana, it's more than just tobacco and smoke; it's an experience. Our cigar lounge is a haven of relaxation, where conversations flourish in an inviting atmosphere. Indulge in your chosen cigar and enhance the moment with our selection of non-alcoholic beverages, whether it's freshly brewed coffee or a refreshing soda or a bottled water.
Our dedicated team, fueled by a belief in unmatched customer service, strives to offer each guest an unforgettable journey through the art of cigar smoking. Whether you're a St. Petersburg local or a visitor from afar, join us to elevate your senses and savor every moment.
Find Bill's La Habana Cigar Club Fast
Shop Premium Cigars and Experience Local St. Petersburg Top-Tier Customer Service
Embark on an aromatic voyage through the storied history and rich culture of cigar craftsmanship with Bill's La Habana. Each shelf in our store is a testament to the art, passion, and tradition that has shaped the cigar industry for centuries. Wander through our eclectic mix, reminiscent of the vibrant tobacco fields of Cuba and the rolling tables of Nicaragua. Here, comfort meets legacy.
Are you a cigar enthusiast searching for the following distinctive flavor to enrich your collection? Perhaps you're a curious newcomer eager to explore the nuances that differentiate a sun-grown wrapper from an oscuro. Or maybe you're looking for the sheer elegance of a well-crafted cigar to complement a celebration or a contemplative evening. Whatever your inclination, our diverse range, featuring everything from time-honored classics to contemporary blends, promises an unparalleled experience, and you get the desired product.
A Cozy Experience at Bill's La Habana Cigar Club
If you're looking for a place to unwind and enjoy a quality cigar, Bill's La Habana Cigar Club is the perfect spot. Here's what you can expect:
Cigars: A wide variety of premium cigars to suit every taste.
Beverages: Freshly brewed coffee and refreshing sodas to complement your cigar.
Atmosphere: A relaxing environment designed for conversation and enjoyment.
Comfort: A laid-back and welcoming environment that feels like home.
Legacy: A rich tradition of offering quality cigars and a memorable experience.
Community: A place where friends gather, stories are shared, and new connections are made.
Whether you're a cigar aficionado or a newcomer, Bill's La Habana offers an experience that's both unique and satisfying. Come and discover the pleasure of a well-crafted cigar in a welcoming setting.
But what sets Bill's La Habana apart isn't just our curated cigar collection—it's the entire experience. The knowledgeable insights from Bill, the owner, and our dedicated staff, the ambiance that whispers tales of old cigar lounges, and the promise of a shared community passion all converge to create a cigar-shopping journey like no other.
Step into our world, where every puff tells a story, and every visit is a bold adventure with flavor.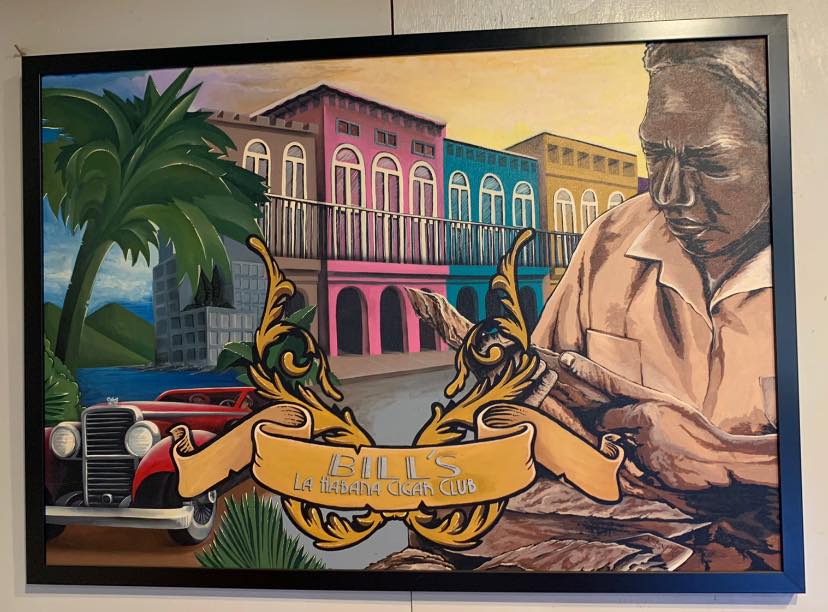 Bills La Habana Cigar Club is Where Cigars Take Center Stage
At Bill's La Habana, we've seamlessly blended tradition with innovation, creating a cigar sanctuary that stands out in South Pasadena and beyond. Whether a boutique blend or an internationally acclaimed brand, every cigar has been handpicked to represent the pinnacle of tobacco craftsmanship. Walk through our doors and be immediately enveloped in an ambiance reminiscent of classic cigar lounges, with modern touches that cater to today's tobacco enthusiasts. Our curated selection is not just about cigars—it's a journey through the best tobacco-growing regions, from the lush valleys of Cuba to the fertile soils of the Dominican Republic and Nicaragua.
But what truly sets us apart in the bustling St. Petersburg cigar scene is our unwavering commitment to the customer experience. Our staff, equipped with extensive knowledge and a genuine passion for the craft, are always on hand to guide, recommend, and enlighten. If you're searching for a rare limited edition, seeking advice on cigar pairings, or just curious about the nuances between wrapper varieties, our team of experts will address your every query.
Experience the allure of top-tier cigars, expert guidance, and a setting that speaks to calmness and relaxation. Dive deep into the world of cigars, where Bill's La Habana remains an unmatched beacon for enthusiasts and novices alike.
Glowing Cigar Shop Reviews from our Esteemed Guests
Over the years, Bill's La Habana Cigar Club has had the privilege of serving a discerning clientele, each with their unique cigar preferences and stories to tell. Learn more on our About page if you're curious about our journey and legacy. Below, some of our valued guests share their experiences, offering a genuine glimpse into the heart of our cigar lounge. Their kind words are a testament to our dedication, quality, and the unmatched ambiance we provide.
I have been working with these guys for years now! With lots of hard work and timely communication, they made sure they delivered the best to me. Highly recommended!Best cigars in the St Pete area. Always helpful and always fresh.
These folks are so nice and helpful. The owner took his time and walked me around and explained so many things, as I am a novice cigar enthusiast. Very nice atmosphere, my son and I play chess as I enjoy my stogie.
Super kind staff talked us through our choices and didn't rush us. They also gave us recommendations for where to get drinks! Very friendly, I would go back!
Nice and helpful when i came in to purchase some cigars. I was even lectured on the diff types and taste as well. I will be back.
Nice meeting place friendly people to share a cigar with.